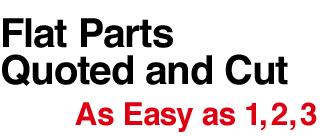 Make sure your file is in '.DXF' format, scaled 1:1 (NOTE: By default some CAD platforms pop up a warning about this when saving), and in INCHES. Make sure your files meet our DESIGN GUIDELINES HERE If you're producing vector art work in a drawing program such as Corel or Illustrator you should be able to export to a .DXF. If your software does not allow for a DXF export, there are many free vector to DXF converters listed HERE.

Choose your required material. For more information about different types of material CLICK HERE Also be aware of our 'Always In Stock' Guarantee! We know what 99% of our customers need, and we've pledged to always have enough material on hand for you. View Our Material List HERE

Choose your file from your computer and click submit. That's it, your part is being quoted! Your files are uploaded and stored on our secure server for future reorders. Your files will never be used or or made publicly view-able without your permission. Your privacy is safe and respected here.